Menachem Magidor 70th Birthday Conference
The Hebrew University of Jerusalem, February 17-19 2016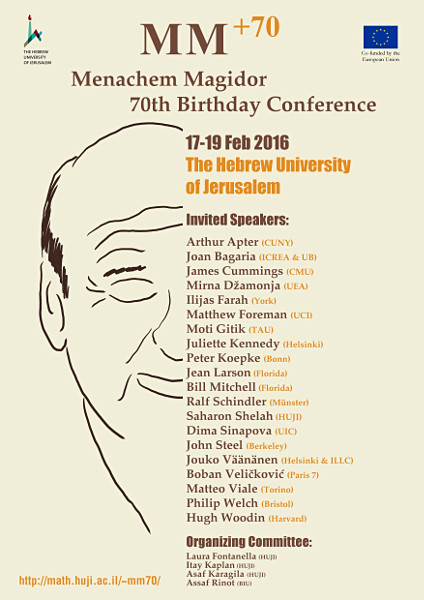 Click here for the conference booklet
Program
Invited speakers:
Artur Apter (CUNY)
Joan Bagaria (ICREA & UB)
James Cummings (CMU)
Mirna Džamonja (UEA)
Ilijas Farah (York)
Matthew Foreman (UCI)
Moti Gitik (TAU)
Juliette Kennedy (Helsinki)
Peter Koepke (Bonn)
Jean Larson (Florida)
Bill Mitchell (Florida)
Ralf Schindler (Münster)
Saharon Shelah (HUJI)
Dima Sinapova (UIC)
John Steel (Berkeley)
Jouko Väänänen (Helsinki & ILLC)
Boban Veličković (Paris 7)
Matteo Viale (Torino)
Philip Welch (Bristol)
Hugh Woodin (Harvard)
Schedule
The following is a tentative schedule: (click on a name to show the details of the talk below the schedule)
Time
Wednesday
Thursday
Friday
9:00
Registration
Džamonja
Schindler
9:30
Opening remarks
9:45
Bagaria
Shelah
Väänänen
10:30
Coffee break
11:00
Koepke
Foreman
Cummings
11:45
Apter
Steel
Woodin
12:30
Lunch break
14:00
Gitik
Veličković
14:45
Welch
Larson
15:30
Coffee break
16:00
Viale
Sinapova
16:45
Kennedy
Mitchell
17:30
18:00
Reception
Notes:
All lectures will take place in the math department building, in Room 2.
Coffee and cake will be served in the lobby of the math department building during the coffee breaks.
Lunches and the reception will take place in Belgium House, not far from the math department.
After the final talk there will be refreshments and light lunch served.
Group photo will be taken on Thursday before the lunch break.
Abstracts
Click on a name in the schedule to see the title and abstract of their talk.
Slides
Talks' slides may be found in here.
Participants
Uri Abraham
Stuti Awasthi
Ur Ben-Ari-Tishler
Tom Benhamou
Ari Brodsky
Shani Cohen
Shmuel Dahari
Ohad Drucker
Laura Fontanella
Hillel Furstenberg
Shimon Garti
Isaac Gorelic
Yair Hayut
Haim Horowitz
Itay Kaplan
Asaf Karagila
Yechiel Kimchi
Menachem Kojman
Chris Lambie-Hanson
Arkady Leiderman
Dani Livne
Dor Marciano
Roy Shalev
Sidney Morris
Sunil Prajapati
Assaf Rinot
Mati Rubin
Gil Sagi
Šárka Stejskalová
Piotr Szewczak
Boaz Tsaban
Alessandro Vignati
Thilo Weinert
Practical Information
If you plan on coming to the conference here are a few things that you might be interested to know.
Hotels: Some accommodation options. The expected price for a hotel room is around 120-150 USD per night.


Travel: This page has information about arriving to the campus from strategic points in Jerusalem.
WiFi: The Hebrew University has a free wifi for guests (SSID "HUJI-guest") as well an "eduroam" connection available.
You can find all the information, and more, in the conference booklet.
Sponsors
We acknowledge the support of the following sponsors:

Co-funded by the
European Union